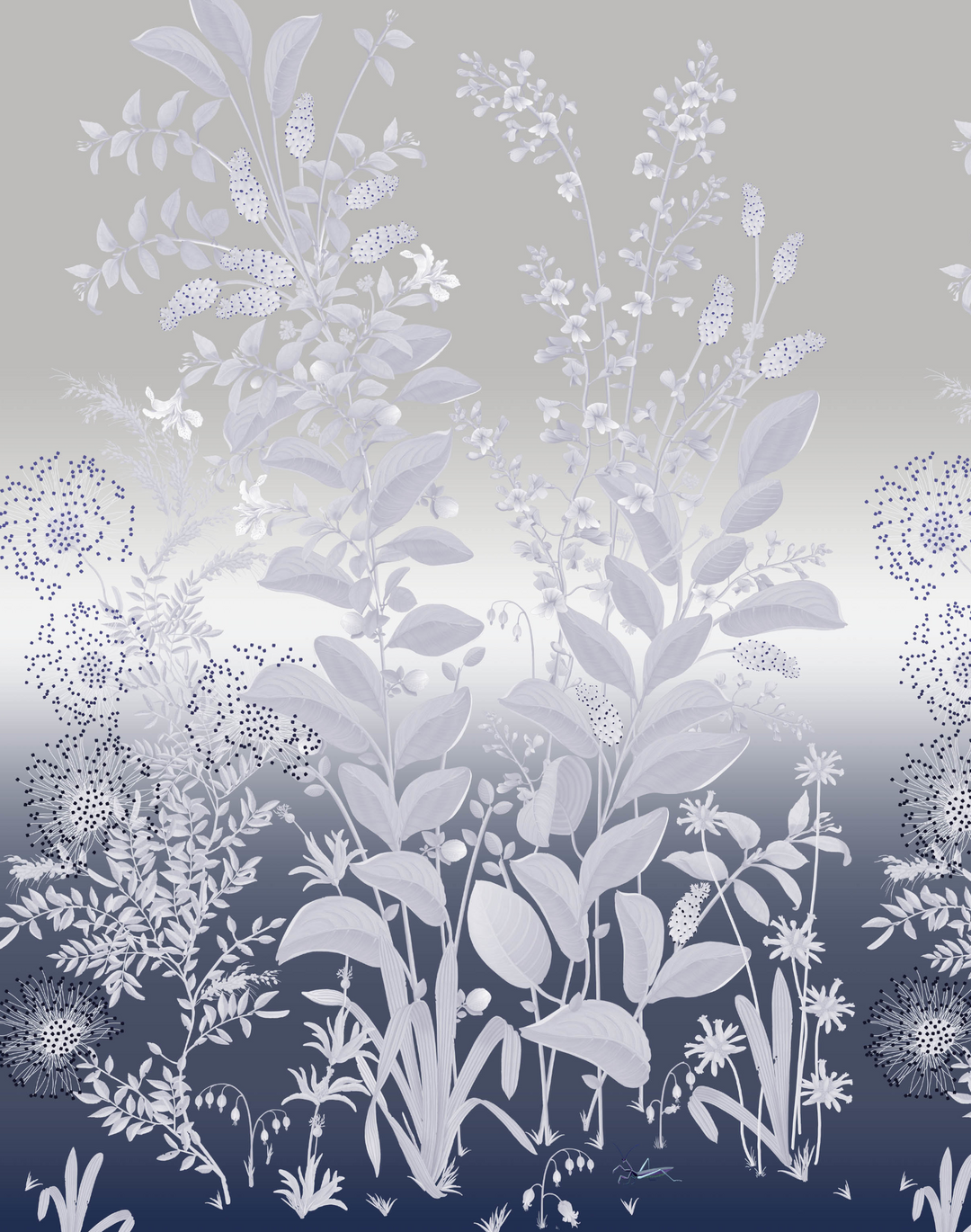 Palm Grand W-PGR-UWH-BSF
Regular price
$ 1,265.00
/
---
Overview
In this exuberant yet purposeful play of color and form, Palm Grand imagines a wild thicket of life on the banks of a river. Intricately drawn waxy leaves, long stemmed grasses and seed pods are punctuated by hand-painted birds, grasshoppers and praying mantises. The contrast of the muted, calming tones of the flora and the electric brightness of the fauna creates a curious interplay of the serene and the captivating. Printed onto panels, Palm Grand has an architectural quality, structuring a space with a sense of order and sophisticated neutrality, whilst also bringing to life a sublime wilderness.

Each design is made up of three matching panel's of 3.3 m each. The full scene is made up multiple designs.

Measurements
• This pattern contains 3 panels, each panel is 27.5" wide x 130" long
• Repeat: Panels line up in order to create pattern. 
Additional Notes
• Printed to order, 3-4 week lead time  
• Fire Rating: EN 13501, Class B, s1, d0
• 100% paper non-woven
Color Description
Multi-colored illustration on a metallic gray background

Additional Info
One of the most important values at Kit Miles is excellence in quality and draughtsmanship in each and every design. The studio's ability to render detailed and at times, surrealist imagery has enabled miles to form a unique language of design.
Kit Miles believes in the power of good design to redefine life and our environments. From soaring geometrics to botanicals brimming with life, Miles's collections seek to capture and re-present a world most complex and beautiful and in doing so, provide a site of boundless inspiration, helping people feel more connected to the deeper world around them.
The process of hand drawing enables the studio to render their wildest dreams into reality, exploring ideas that create new possibilities in design whilst producing an exquisitely manufactured end product.
The studio's aim is to elevate the craft of textile design for the 21st century and in the proses help people design beautiful interiors that lead us into the future.