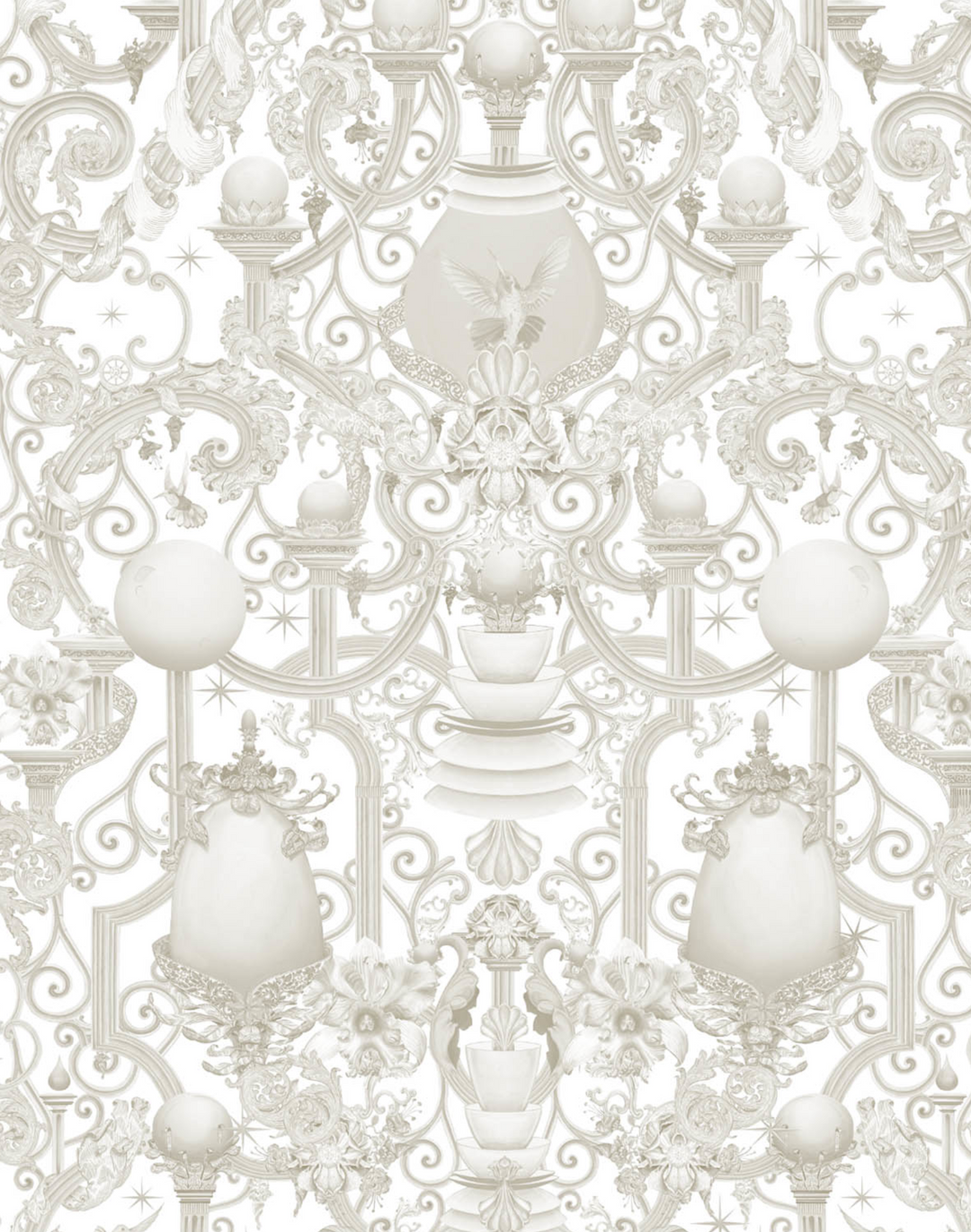 Europa W-EUR-STO-TMI
---
Overview
Europa unabashedly revels in the complexity and wonder of the natural and manmade world. An ornate, Corinthian-esque gate forms the architecture of the Baroque design, laden with a wealth of unexpected, lavish images, either of or inspired by the natural world. An expression of the human drive to peer beyond the realm of the visible into the unknown, this grand assemblage reads like a marvellous floating city. Printed onto super-wide, textured paper, the intricacy of this polychromatic design invites the onlooker to lose themselves in an imaginative realm that lies beyond.
Measurements
• This pattern is 57" wide and sold by the linear meter
• Repeat: 57" x 69.4"
Additional Notes
• Printed to order, 3-4 week lead time  
• Fire Rating: EN 13501-01:2007, Class Bs2, d0
• Mica smooth coated non-woven titan
Color Description
Shimmery neutral illustration on a white background

Additional Info
One of the most important values at Kit Miles is excellence in quality and draughtsmanship in each and every design. The studio's ability to render detailed and at times, surrealist imagery has enabled miles to form a unique language of design.
Kit Miles believes in the power of good design to redefine life and our environments. From soaring geometrics to botanicals brimming with life, Miles's collections seek to capture and re-present a world most complex and beautiful and in doing so, provide a site of boundless inspiration, helping people feel more connected to the deeper world around them.
The process of hand drawing enables the studio to render their wildest dreams into reality, exploring ideas that create new possibilities in design whilst producing an exquisitely manufactured end product.
The studio's aim is to elevate the craft of textile design for the 21st century and in the proses help people design beautiful interiors that lead us into the future.