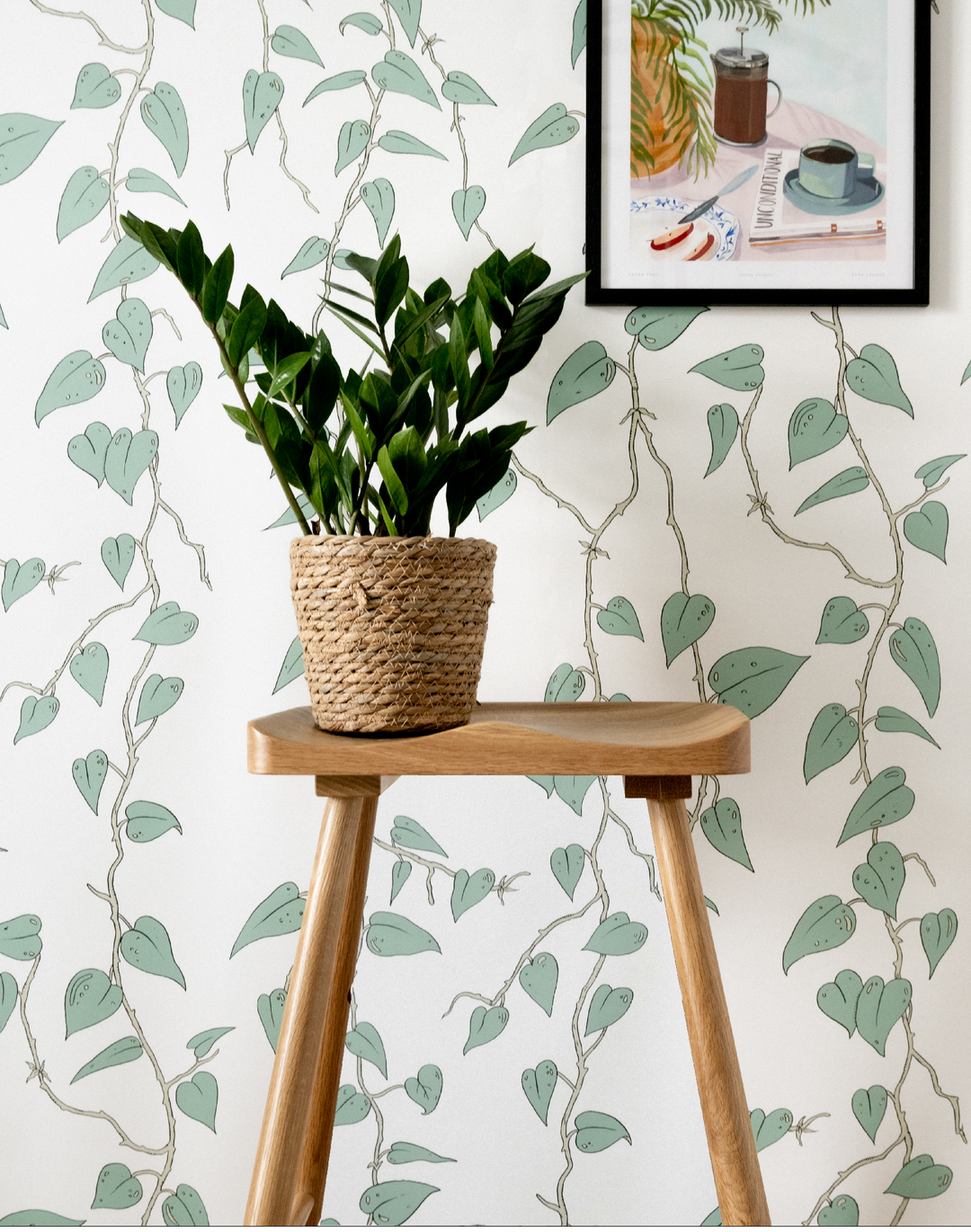 Cascada, Chalk-White
---
Overview
Cascada Chalk Wallpaper. Cascada was inspired by our inspiration trip to Costa Rica, a place where nature is king and conditions for plant and animal life are unparalleled. Cascada in Spanish literally means 'waterfall' which beautifully summarizes the fluid movement and life of the print. This stylized illustrative plant known as a Philodendron brings the freedom and spirit of the great outdoors, in! The Chalk colorway is inspired by the natural rock, chalk, a sedimentary rock which is a soft form of limestone. Used as the backdrop for this fresh and minimal colorway to showcase the stunning Turquoise leaves of the heart shaped philodendron plant.

Measurements
•  Roll size: 20.5" wide x 11 yards long
•  28.7", half drop
Additional Notes
• Printed on order 3-4 week lead time
• Non-woven & paste the wall, so no wallpaper table required
• FSC certified
Color Description
Multi colored illustration on a white background. 
Additional Info
Wear the Walls was founded by Carrie Brightley, an interiors print protégé with ten year's experience designing for the iconic Liberty London and super trendy print house, House of Hackney.

The idea for 'Wear the Walls' was one that had been transpiring since Carrie graduated her Printed textiles degree from Leeds College of Art in 2011. From a very young age she had been enchanted by the works of William Morris, Josef Frank and Celia Birtwell. With an equal love of fashion and interior design, it felt only natural to combine her two passions. After a year in the making, the brand launched in February of 2020 after successfully navigating the challenges of the pandemic evolving from a fashion focused brand to predominantly homewares.
Wear the Walls champions the slow production movement by marrying superior print design with timeless products, most of which are made-to-order to ensure zero waste. 
The business is run from Carrie & Tom's home in Cornwall on the rugged North Coast and design inspiration comes from the beautiful Cornish landscape. A deep rooted love of nature and the desire to preserve it, is echoed throughout their ethical practices within their brand.
Carrie creates all the designs from scratch in her 'in house' studio, painting each meticulous print by hand and designing each of the products in which they will be placed. Wear the Walls operates with a 'Made in England' ethos. Keeping production local keeps our CO2 footprint down and maintains a transparent and ethical supply chain. We aim to always support brilliant British Manufacturing and the UK economy.