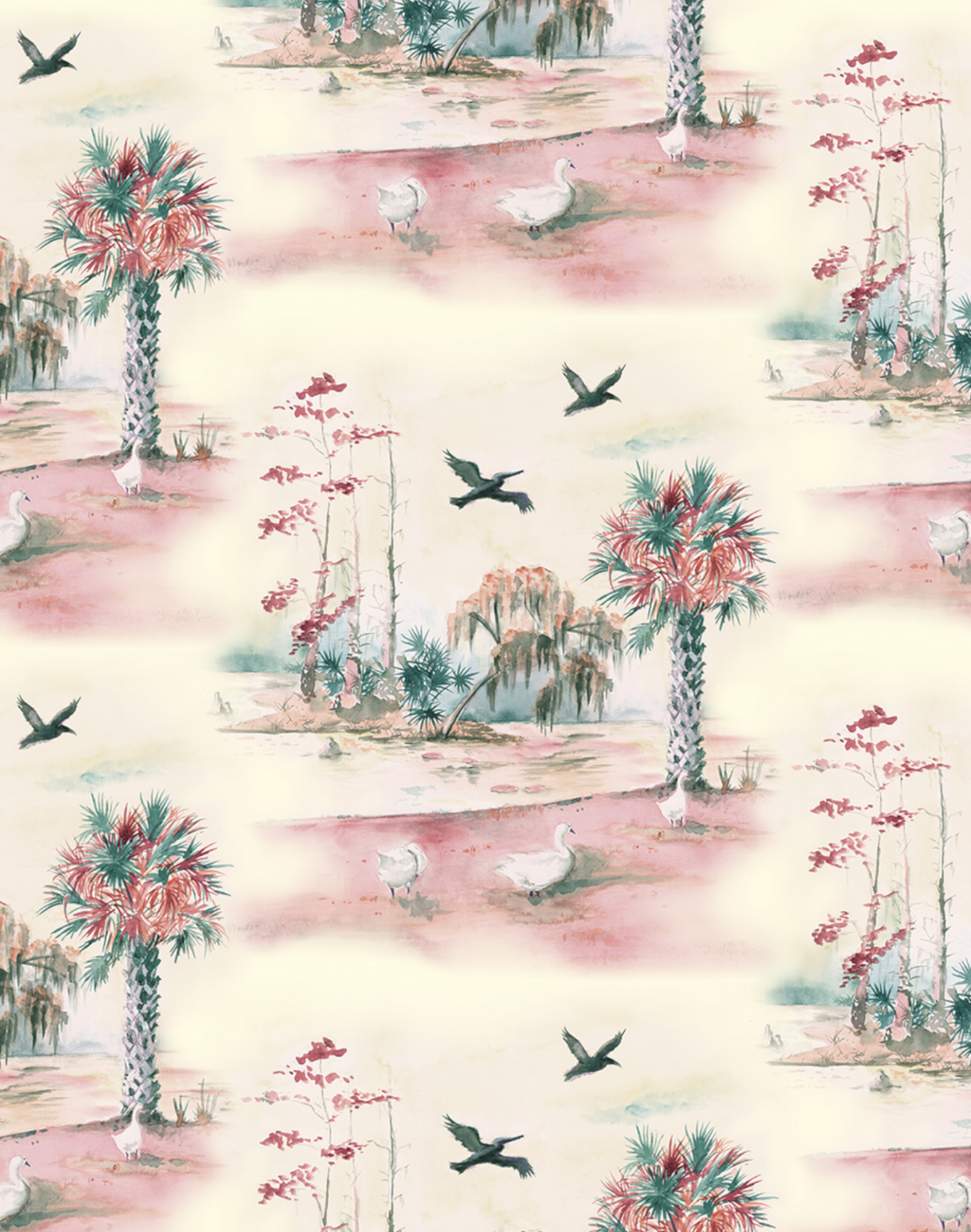 City Park, Dusty Pink
---
Overview
A dreamy, tropical scene in New Orleans' City Park where geese feed amongst the cypress trees and palms as pelicans soar above the pond is playfully rendered in colors of pink, plum and blue-green. This modern toile of sorts is an excellent wallpaper choice for a shabby chic living room or bedroom.

Measurements
• Each roll is 26 inches x 12ft (custom lengths available AND also available in vinyl)
• Repeat: 26" horizontal x 31.6" vertical
Additional Notes
• Printed to order, 2-4 week lead time. 
• Pre-Pasted. Eco-friendly, Odorless, PVC –free paper and latex inks are Greengaurd Children and Schools certified, FSC and PEFCTM certified (ensures that these products support sustainable forest management). 
• Additional substrate materials are available including premium matte paper, commercial grade vinyl, paper weave (similar to grasscloth look) and raw silk. Please inquire for details or samples.
• Made in the USA
Color Description
Orange and pink illustration on a white background
Additional Info
Annie Moran is an artist and designer whose work examines and celebrates the nature and culture of her native Louisiana and the Gulf Coast region. Her primary focus is in watercolor painting, mural arts, and wallpaper and textile design. Additionally, she creates fine jewelry, accessories and apparel. Born and raised in rural Louisiana, the abundance of natural surroundings provided constant food for her imagination as a child and that love of nature continues to fuel her creativity. After working for 12 years in New York as a designer in the fashion industry, Annie is now back home in New Orleans, surrounded by the people and the landscapes that inspire her the most. Her paintings, wallpapers and murals are quickly becoming favorites among collectors, interior designers and homeowners alike.