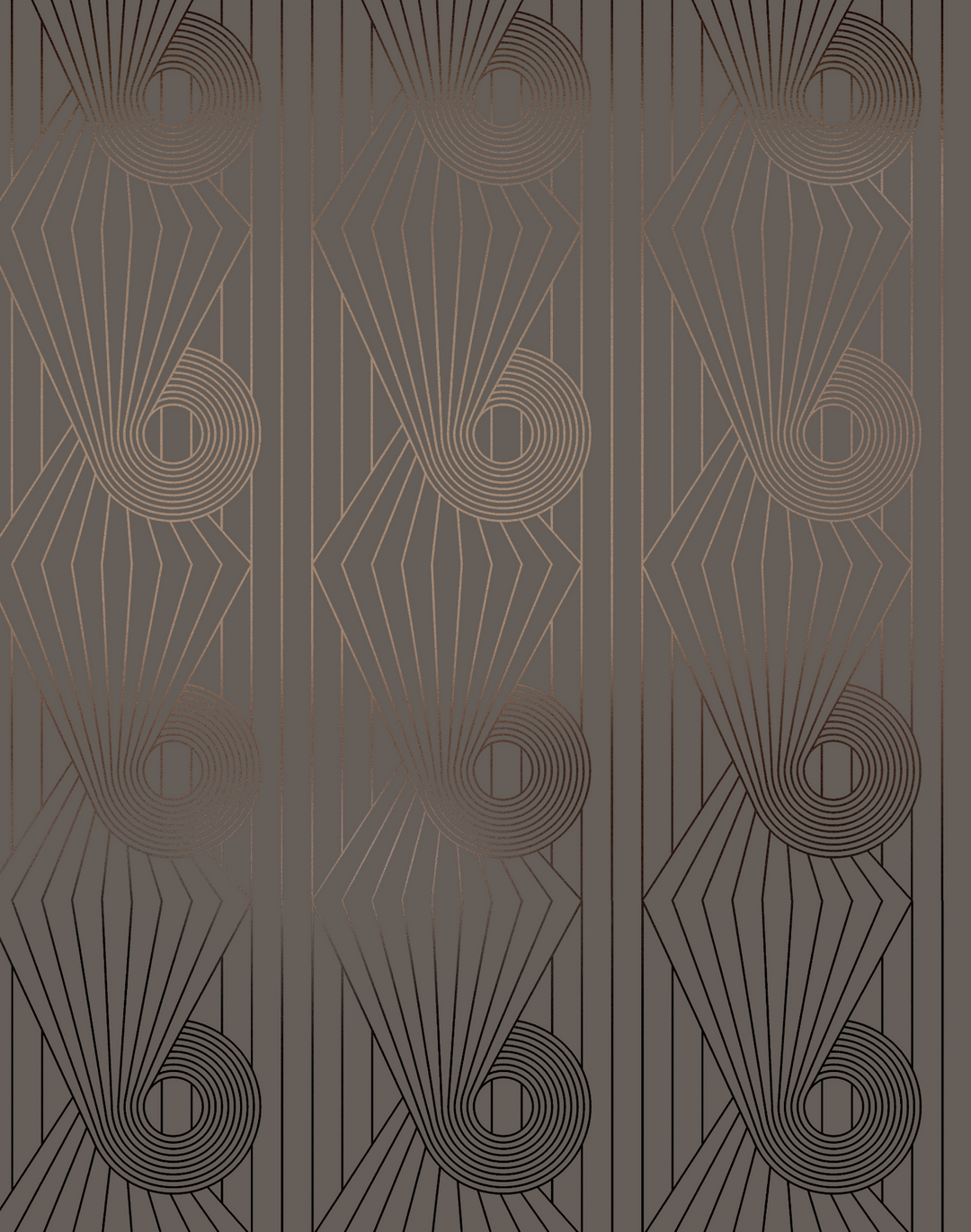 Minispiral, Bronze & Cocoa Brown
---
Overview
Taking influence from the opulence of art deco detailing, Minispiral is a bold, linear design that offers a graphic, contemporary twist on traditional 1920s elegance. Traditionally printed foils and environmentally friendly pigments, this geometric, minimalist approach to luxury is the perfect modern backdrop.
Measurements
• Each roll is 20.5" wide x 11yds long
• Vertical repeat is 5.21", straight match
Additional Notes
• 2 week lead time 
• Made in the UK
• Material: Non-woven (paste the wall) 
• Commercially and residentially fire-rated (Class B – s1, d0) 
• Printed with non-toxic, light fast, water based inks
Color Description
A soft brown and reflective bronze pattern - both opulent and refined

Additional Info
After graduating from the Royal College of Art, London with a master's degree in Printed Textiles, Erica Wakerly established her design company in 2006. Her practice focuses on the creation of wallpapers and interior textiles, made using a range of traditional production processes in the United Kingdom.
In addition to an Elle Decoration award for Best Wallcovering, she was also named Designer of The Year by Homes & Gardens in 2007, and has continued to be recognized for her graphic, linear style. Erica led the international revival of metallic finishes for wallpaper, and her purposeful inclusion of silver, copper and gold foils is intended to reflect the light and create an atmosphere that evolves throughout the day. Color is added in a systematic and restrained way – a method that adheres to the philosophy that less really is more.
Historically, wallpaper was often designed to imitate a scene or luxurious fabrics such as velvet or silk draperies. Erica has adopted a far more architectural approach to her practice, by developing wallcoverings that become an integral part of a room's composition – a structural element that is just as essential as an item of furniture. Inspired by the pioneering, modernist principles of design, her collection uses repetition, shape and color to create the illusion of space, stripping back the superfluous and allowing rooms to breathe.